Click on any picture for enlargements
Click on any picture for enlargements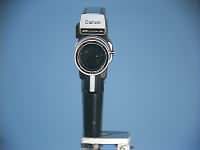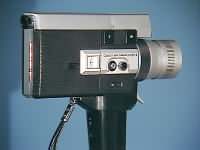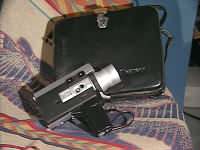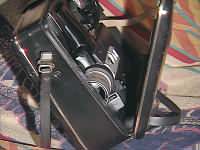 Click on any picture for enlargements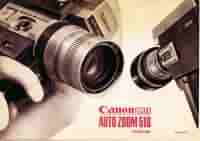 Old Advertisements - Click on any picture for enlargements
Canon Auto Zoom 518 SUPER 8 MOVIE CAMERA with Slow Motion
Besides Canon Quality and superior lens design, what separates this camera from most others is the slow motion feature. Many Super 8 cameras can slightly slow apparent speed of a playback image by shooting at a higher speed, but few can take it this far. This camera speeds up the film to double the normal speed, taking it from 18 fps up to somewhere between 36 and 40 fps (depending on whose test you read), cutting in half the speed of the playback image. Great for capturing smooth motion of dance, sports, ocean waves and water in motion or whatever you prefer.

Both Auto and Manual Aperture Settings are featured. Shooting at any manual aperture setting is possible by one operation of the aperture control ring (Fading out/in is possible using a ND filter together.)

This model added power zooming to the popular Zoom 518 Super 8. A fixed grip was added to contain a motor and an additional AA battery for power zooming. This additional function made the model a bestseller, with the best balance of performance, price and design.
Main Features of This Super 8 Camera
18 fps normal filming speed and slow motion.
Simple cartridge loading with automatic film speed setting
Sharp and fast F1.8 5-times soom lens with zooming range of 9.5-47.5mm.
Automatic through-the-lens exposure control with CdS meter.
Single-lens reflex viewing and microprism screen rangefinder for accurate focusing.
Powered film drive and zooming.
Manually operable aperture.
Uses Super 8 film cartridge - 50% larger picture area
Easy-to-hold built-in trigger grip.
There is a tripod socket on the bottom of the handle for mounting. Four AA batteries (One battery is contained in the grip for zooming and slow motion). Sufficient power for 10 film cartridges under normal temperature, and a small 3 volt camera battery on the side to operate the built-in exposure meter. (Batteries not included)
Marketed approx. 1967 - 1975. View the entire Canon Auto Zoom 518 Instruction Manual or download it here (1.9 MB zip file)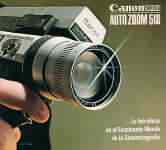 ---
Condition
When I parted with this camera several year ago, it was in good condition. Physical shape was nice, please see the photo enlargements. The upper battery compartment showed some signs of past battery leakage, which was neutralized and properly cleaned.
I tested out all functions, shutter and claw, transport mechanism, power and manual zoom, and lens condition, electronic metering, and remote cable, all worked.
---
Canon 518 Super 8 Film Camera Specs.
Type
Super 8 type 8mm movie camera
Image Size
4.2 x 5.7 mm (Projection image size: 4 x 5.4mm)
Film
Super 8 film cartridge
Lens
Focal Length/Speed
9.5 - 47.5mm f/1.8 (14 elements in 11 groups, including 5 new type glass elements) Inner diameter: 48 mm, outer diameter: 50 mm
Amber and magenta coating
Focal length can be extended to super telephoto of 15.6 - 78mm f/1.8 with addition of Tele Converter 1.6X (not included).
Zooming Ratio
5x
Focusing
Manual (Front lens group rotating method), 1.2 m to infinity
Zooming
Power zooming (Approx. 6 sec.) and manual zooming with zooming ring. Rotation angle: Approx. 100 degrees.
Filter Size
48 mm
Viewfinder
Type
Single-lens reflex type
Rangefinder
Prism screen rangefinder (Micro-prism rangefinder)
Dioptric Adjustment
-3 to +1 diopter
Viewfinder Information
Aperture value, exposure meter needle, over/under exposure warnings
Exposure Control
Type
Automatic aperture setting coupled to loaded film speed and shooting speed. Just aim the subject and shoot. The correct exposure is given always.
Exposure Meter
Built-in TTL CdS exposure meter
Metering Range
ISO 160 f/1.8, 18 fps - ISO 16 f/16, slow motion
Film Speed
Automatic ISO setting by film cartridge
Tungsten type film: ISO 25, 40, 64, 100 and 160
Daylight type film: ISO 16, 25, 40, 64 and 100
CCA Filter
A Color Conversion filter A is built-in to use tungsten type film under daylight. The CCA filter is automatically cancelled with loading of a daylight type film cartridge. Manual cancellation of the CCA filter is possible.
Manual Aperture Setting
Shooting at any manual aperture setting is possible by one operation of the aperture control ring (Fading out/in is possible using a ND filter together.)
Power Source
Two MD mercury cells
Battery Check
Push button checking
Film Drive
Type
Power filming by a high performance micro-motor
Filming Speed
18 fps and slow motion (approx. 40 fps)
Power Source
Four AA batteries (One battery is contained in the grip for zooming and slow motion). Sufficient power for 10 film cartridges under normal temperature.
Footage Counter
Counts up. Automatic resetting by unloading of a film cartridge.
Battery Check
Push button checking
Shutter
Shutter Opening
160 degrees
Release Socket
Sockets for remote control and continuous shooting
Shutter Lock Dial
Three positions for safety lock, run, running lock/remote control
Safety Mechanism
Preventing mistakes on shooting: over/under exposure warning, shutter lock and film drive confirmation.
Remote Control
Possible with remote switch
Grip
Holding type, battery compartment for a driving AA battery
Dimensions (W x H x D)
55 x 187 x 206 mm
Weight
1150 g (Body only)