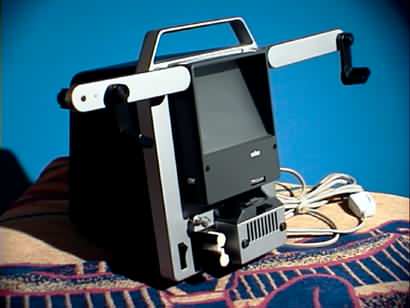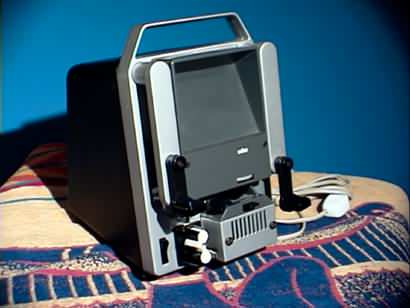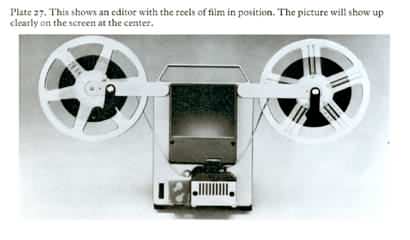 The black and white image above is from a book, showing the Braun editor set up with film and reels.
Click on small Pics Below for enlargements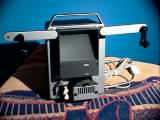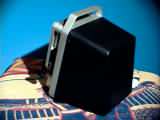 Braun/Nizo Super 8 Film Editor/Viewer
For information only...not for sale!

Made in Germany, this Braun Super 8 Film Editor/Viewer features world-class Design and quality so typical of its manufacturer, BRAUN.

This Braun Model SB-1 was part of the same product line that included the legendary Braun/Nizo Super 8 cameras.

Beautiful modern design, typical of most Braun products and very well made. Quite solid and fairly heavy for its size. The Halogen Light bulb operates fine. The editor/viewer is in good condition as the photos reveal.

In 1977 this model was originally listed at $125.00, considerably higher than most other editors of its time, but well worth it considering the quality.

Rugged construction, made of metals (Silver colored areas) and plastics (usually black and gray areas in photos)

Braun Super 8 Film Editor/Viewer Specs, Features, and Dimensions
Braun Model SB-1
Serial Number: 304329
Halogen 6 volt/10watt lamp
110-240 Volts~/50-60Hz set by a convenient dial on the bottom for your country's electrical system. Currently set at 110V and used in USA
3"x 4" View Screen
Height including upper handle: 10"
Width with arms folded: 6 1/2"
Width with arms raised: 15"
Depth including Knobs: 9"
Tuck-away compartment for cord underneath, see pictures of bottom side
A very well designed solid German editor/viewer. Ideal for the serious S-8 filmmaker or student!