Patents & Inventions

---
Future Boards From the Past
Click Pics to See Enlargements


Tom Pahk went beyond the norm to create a new skateboard shape. He wasn't satisfied there, though; he wanted a better truck design as well. The trucks are designed to pivot with a torsion-bar type of spring suspension.


Jeff Teague's skateboard has a special four-wheel truck on the rear. The truck is designed so the board has a different turning axis when it is level than when it is in the middle of a kick-turn. The design would give stability of a downhill speed board with the quick reaction (when the rider was doing a tail wheelie) of the best skatepark and bowl riding board.
---
Patents: Courtesy U.S. Patent Office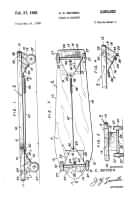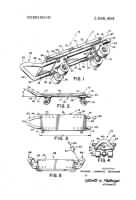 1971 First Kicktail Patent By Richard Stevenson
---
Home|Aloha Skatetown Skatepark|Vintage Skates
Skatepark Design|SkateShots Gallery|Capturing The Past
Skate Patents|Links|Sound Files|Alpha Sensory Home
All content © 2001 R. D. Nelson. All rights reserved.