This Joker is Wild!!!!

Incredibly Rare...This is an original (w/Green background)...
...John Lucero Jester Deck - by Madrid -
The Madrid - Lucero Jester was one of the most sought after old-school decks ever made.This icon of old-school sk8 had a limited reissue a few years ago (approx. 500 I have heard) - Even the reissue boards (green... also) are prized by collectors.
This is an ORIGINAL...from 1983 or so; Not 4 sale
Click Photos to View Enlargements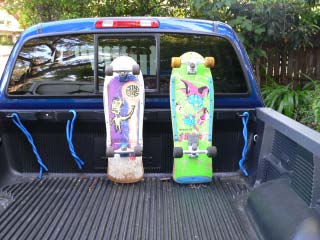 Click Photos to View Enlargements
---
Home|Aloha Skatetown Skatepark|Vintage Skates
Skatepark Design|SkateShots Gallery|Capturing The Past
Skate Patents|Links|Sound Files|Alpha Sensory Home
All content © 2001, 2006 R. D. Nelson. All rights reserved.