SkateShot Gallery:
The Whale Bowl
Click on Pics to see Enlargements

Skaters felt like Jonah in the whale inside Aloha's enormous 400,000-gallon capacity "Whale Bowl" - 80' long, 30' wide and 12'+ deep with special side drop-offs. The "Whale Bowl's walls varied from 45 degrees to vertical. Notice the small drain hole in the shot above.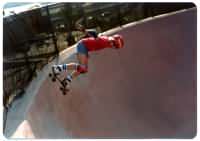 Whale Skaters @ Aloha
---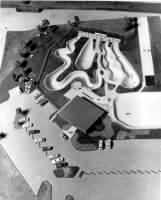 The Whale Bowl was shaped like a large whale and nearly as large. It is the second run from the left in this photograph.
---
Home|Aloha Skatetown Skatepark|Vintage Skates
Skatepark Design|SkateShots Gallery|Capturing The Past
Skate Patents|Links|Sound Files|Alpha Sensory Home
All content © 2001 R. D. Nelson. All rights reserved.