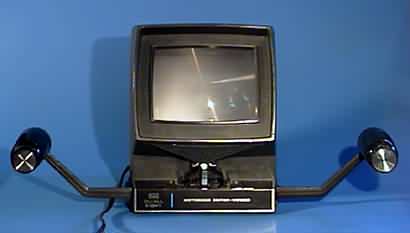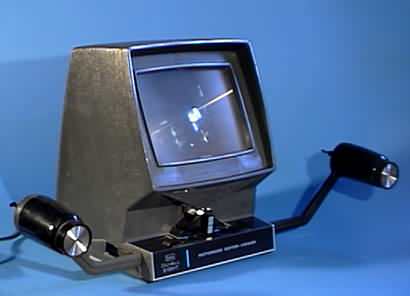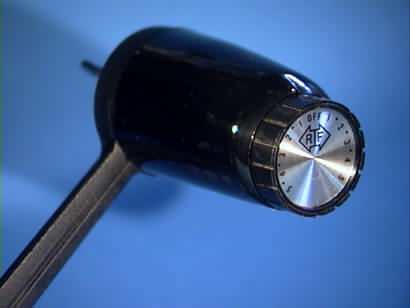 Just twist the dial in either direction, the furthur the faster the film rolls.
Click on small Pics Below for enlargements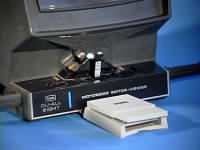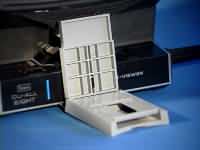 Sears Motorized Dual 8 Film Editor/Viewer & Splicer
For information only...not for sale!

Here is an example of a consumer all-in-one editor/viewer/splicer for 8mm and Super 8 film. The most notable feature being the motorized reels and their control.

Motorized...Look Ma, no hands!: The labor saving motors are place within the two black capsules, located where the cranking handles are on most viewers. The one on the right (See third picture down from top) has a knob that can be turned in the direction you want the film to move. The more you turn it the faster the film moves. This makes it easy to scout through long reels of film.

Large Screen: This Motorized editor/viewer has a screen much larger that most...being a full 4 1/2" tall by 6" wide. If you will note the dimensions below, this is a fairly good sized machine overall, but the lamp and optics are strictly for home movie use, lacking the brightness and clarity of more expensive semi-professional units and some of those with smaller sized screens. Despite this fact, this device received a nice product review from Super 8 expert Lenny Lipton when it was new.

Built-in Splicer: The editor /viewer also comes with an attached tape type splicer. It folds out from a storage area underneath the machine, placing it in a good position for working.

Dual 8mm - Multi modes: The splicer has a plate within it that flips over for selecting Super 8mm mode or Standard 8mm mode.A labeled lever or block on the front of the machine pulls out or pushes in for selecting film mode.

Switches: There are switches for Lamp, Frame adjustment, focus and marking the location for cutting the film for editing.
---
Sears Dual 8 (Super 8 & Standard 8) Film Editor/Viewer/Splicer Specs, Features, and Approximate Dimensions
Sears Dual 8 Motorized Editor Viewer
Cat Number: 186.9382
110 Volts~60 Watts
Large 4 1/2" x 6" View Screen
Height: 10 1/2"
Width with arms folded: 16"
Width with arms raised: 21 1/2"
Depth Open including Arms and Knobs: 9"
Depth Closed including Arms and Knobs: 9"
Tuck-away compartment for attached foldaway splicer underneath, (see pictures of bottom side)